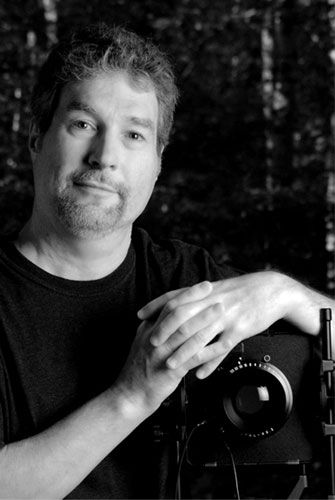 ABOUT
Eight years ago, my wife Valerie and I, and our two dogs moved from our home of fifteen years in Bucktown, a thriving neighborhood five minutes from downtown Chicago, to Star Prairie, Wisconsin, population 492. Some said "Crazy!" Maybe.
The cry of a Red-tailed Hawk hunting in a snowfall, a midsummer's eve serenade of tree frogs…everyday this place becomes more a part of me. We live on four acres of mature forest bordering on a small lake and marsh, in a home built by a man with his own hands in 1978. My studio's in an old garage previously used to restore vintage cars. Details in this vast landscape change daily. Observing these changes informs my vision. I find myself caught between wanting to photograph everything I see and just living amidst this magic and letting it caress my soul.
I use my photography to communicate the connections I feel between people. I use it to compel in us a sense of community. We stand on the edge of profound change. I've never felt more at home or been more excited about what's ahead and sharing what I see.
Recent Clients
Quaker Oats
Ronald McDonald House Charities
Pearson Education
The Fund
Northwestern College
McCormick Theological Seminary
YMCA of Metropolitan Chicago
National-Louis University
Wisconsin Indianhead Technical College
Lutheran School of Theology at Chicago
University of Chicago
Argonne National Laboratory
Burson-Marsteller
Elmhurst College
GMAC
Hamline University
Hennepin Technical College
University of Minnesota Foundation
University of Minnesota
Kalamazoo Community Foundation